Título: The Sword of Summer
Autor: Rick Riordan
Editorial: Disney Hyperion
Año de Publicación: 2015
Idioma: Inglés
Serie: Magnus Chase and the Gods of Asgard
Páginas:

528
Sinopsis

Magnus siempre ha sido un chico problemático. Desde la misteriosa muerte de su madre, ha vivido solo en las calles de Boston, sobreviviendo gracias a su ingenio, manteniéndose siempre un paso adelante de la policía y los oficiales que buscan a quienes deberían estar en clases.

Un día, es encontrado por un hombre que nunca había conocido antes - un hombre que su madre afirmaba que era peligroso. El hombre le dice un secreto imposible: Magnus es el hijo de un dios nórdico.

Los mitos vikingos son reales. Los dioses de Asgard se están preparando para la guerra. Trolls, gigantes y los peores monstruos están preparándose para día del juicio final. Para evitar el Ragnarok, Magnus tiene que buscar en los nueve mundos un arma que ha estado perdida por miles de años.

Cuando un ataque de los gigantes de fuego le obliga a elegir entre su propia seguridad y las vidas de cientos de inocentes, Magnus toma una decisión fatal.

A veces la única manera de empezar una nueva vida es morir...


SERIE: MAGNUS CHASE AND THE GODS OF ASGARD
The Sword of Summer
The Ship of the Dead
Mi opinión
Sé que siempre me quejo de lo mismo, pero es que duele mucho esperar un año por un libro (o en este caso mucho más, desde que se anunció que este libro existiría) y que este solo te dure un día. Claro que es mi culpa por no querer detenerme y saborearlo pero en realidad no lo puede uno dejar. El pobre Magnus se la pasa en peligro y uno quiere saber cómo se va a salvar de esa situación.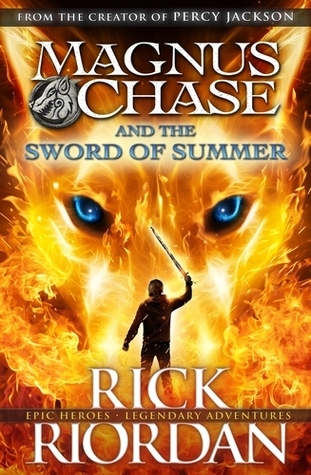 Magnus acaba de cumplir 16 años y ahora todo el mundo lo anda buscando. Después de vivir dos años en la calle sin que nadie se preocupara por él, ahora es la persona más buscada. Su tío Randolph le urge que encuentre una espada que evitará que lo maten y a pesar de que el chico logra encontrarla (por unos cuantos minutos), pronto se encuentra en el Lobby del Hotel Valhalla, el lugar donde las Valkyries llevan a aquellos que encuentran dignos para formar parte del ejército de Odín cuando llegue Ragnarok. Obviamente todo esto es después de que mueren. Ahora Magnus es parte de los Einherjar y de nuevo debe encontrar esa espada para que Ragnarok no llegue pronto.
Adoro las historias de Riordan, siempre logra hacerme reír con sus personajes y preocuparme enormemente por ellos. En esta ocasión, volvemos al narrador en primera persona y los títulos hilarantes tipo: "Gusto en conocerte. Ahora aplastaré tu tráquea", "Mi espada por poco termina en ebay" y "Soy insultado por una ardilla" y mi favorito solo porque menciona a Jason de los Héroes del Olimpo es: "Hearthstone se desmaya más que Jason Grace (Aunque no tengo idea de quién es esa persona)".
No hay nadie como Rick Riordan para convertir todas esas partes importantes de la mitología en cosas cotidianas y mundanas. Por ejemplo Valhalla, el lugar donde se reúnen los muertos que lucharán algún día en Ragnarok es un lujoso hotel con actividades como "Combate de Grupo ¡a Muerte!", "Lunch Buffet ¡a Muerte!" y "Yoga ¡a muerte!".
También es experto en crear personajes peculiares. En este caso tenemos a un enano muy preocupado por la moda. Su nombre es Blitzen y simplemente me encantó. Es divertido y siempre ayuda a Magnus con sus obstáculos. Hearthstone es un elfo y es valiente a pesar de todos sus problemas. Estos dos personajes le dan una parte bastante cómica al libro pero su vida no ha sido fácil y me encantó ir conociéndolos poco a poco.
Samirah es una Valkyrie valiente escogida personalmente por Odín a pesar de su linaje. Ese linaje que le causa muchos problemas (es bastante predecible y seguro que ustedes ya se imaginan de quien es hija) no es suficiente para evitar querer ayudar incluso a las personas que se burlan de ella y que disfrutan con hacerla sentir mal.
Y por último tenemos a Magnus, un chico que ha pasado un muy mal rato en estos últimos dos años. Vio como su mamá murió y ha vivido en la calle buscando comida en basureros y durmiendo en el suelo. Esto le da carácter al personaje y afortunadamente no es tan insufrible con Percy (lo adoro, pero a veces se pasa de sarcástico y despreciativo). Su personalidad es un poco más … no quiero decir amargada, pero en realidad no espera mucho de la vida así que ahora que tiene amigos y un lugar donde vivir, además de estar más tranquilo con la muerte de su mamá, quiero ver cómo va a evolucionar.
Lo que si no cambia es que las personalidades de los dioses tienden a ser bastante extremas y que nunca sirven para nada. En ese sentido y con lo de la misión super importante, si me recordó a los libros de Percy pero Magnus y sus amigos logran hacer que dejes de andarlos comparando.
Y por último, aunque Annabeth nunca ha sido mi personaje favorito de la serie de Percy Jackson, me encantó encontrarla en The Sword of Summer, sobre todo porque el final da para soñar en que algún día se encontrarán los dos grupos juntos.
Calificación
Tal vez lo único malo es que el libro es bastante largo. Se la pasan corriendo de un lado a otro y aunque esto te ayuda para conocer y desarrollar a los personajes, como que sí se extendió demasiado. Aún así disfruté de todo el enorme trayecto y le doy 4.5 monitas a Magnus Chase and the Sword of Summer de Rick Riordan
Saludos!!