Título: The Raven King
Autor: Maggie Stiefvater
Editorial: Scholastic
Año de Publicación: 2016
Idioma: Inglés
Serie: The Raven Cycle
Páginas: 438
Sinopsis

Toda su vida, Blue fue advertida que ella causaría la muerte de su verdadero amor. Ella no creía en el amor verdadero y nunca pensó que esto podría ser un problema, pero cuando su vida se ve atrapada en el extraño y siniestro mundo de los Raven Boys, ya no puede estar tan segura.


SERIE: THE RAVEN CYCLE
The Raven King
Mi opinión
Hace poco más de un año, después de escuchar cosas excelentes sobre ellos, me adentré en el mundo de The Raven Boys de Maggie Stiefvater. Debo confesar que no tenía idea de qué me encontraría en sus páginas. No tenía ninguna espectativa y muy poco conocimiento de qué iba la historia. Y ahora por fin he terminado ese viaje increíble.
Si me preguntan de qué va la historia, sigo sin poder explicárselos no solo porque es un poco complicado sino porque son tantas cosas las que envuelve esta serie que me es imposible concentrarme en una sola línea. Cada vez que leo uno de estos libros termino con la cabeza dándome vueltas. Y en esta ocasión me obligué a dejar de leer cuando iba por el 50% así que esa noche no podía dormir pensando en los increíbles personajes. Y anoche estuvo peor. Era más de la media noche y yo daba vueltas en mi cama sin poder conciliar el sueño.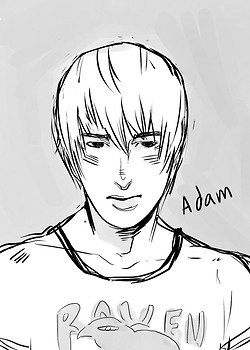 Después de esos dos párrafos ya se imaginarán cuanto me gustó The Raven King, simplemente me encantó. Leer a Stiefvater siempre es una experiencia hechizante, sus palabras te transportan al mundo que lees y te envuelve con su magia para que no quieras escapar.
Pero lo mejor de esta serie y donde Stiefvater resplandece, es con los personajes. Ya los hemos conocido por 3 libros y uno pensaría que ya no tienen mucho más que aportar o crecer, pero estarías equivocado al pensar esto. Richard Gansey, Blue Sargent, Adam Parrish, Ronan Lynch y Noah Czerny aún tenían mucho que aprender antes de encontrar a su Rey Glendower que es la misión que los ha empujado desde el principio de la historia. Pero ahora es mucho más que solo encontrar un Rey muerto, es tratar de vencer a un demonio cuyo único objetivo es Deshacer. Deshacer todo lo que el soñador ha hecho y lo que sus amigos han logrado.
Pero estos libros jamás han sido sobre una pelea entre el bien y el mal, sino sobre la aventura de los personajes, hay veces que estás tan metido con los protagonistas que se te olvida que hay más a tu alrededor, solo te enfocas en sus sentimientos y problemas, son tan carismáticos que todo lo demás deja de existir.
Hubo un par de capítulos donde experimenté eso que tanto mencionan en los libros de tomar un respiro después de haberse dado cuenta de que habían dejado de hacerlo, Y otros que me dejaron con una sonrisa en el rostro y una vaga idea de lo que pudo haber pasado. Lo que nunca pasó fue que me aburriera o que quisiera cerrar el libro.
Aparte de esperarlo con ansias, este libro me tenía muy nerviosa. Hay cosas que tenían que pasar y aunque te imaginas cómo se puede manejar, aún es sorprendente la resolución. Agradezco ese epílogo pero me sigue dejando con ganas de más. Siento un enorme vacío por saber que ya no seguiremos las aventuras de estos chicos y su familia. Pero estoy contenta por como quedó todo, así que no me puedo quejar (demasiado).
Calificación
No se han de sorprender cuando le doy 5 monitas a The Raven King de Maggie Stiefvater. Y ahora a esperar con qué nos va a sorprender esta versátil autora.
Saludos!!