Título: The Hidden Oracle
Autor: Rick Riordan
Editorial: Disney Hyperion
Año de Publicación: 2016
Idioma: Inglés
Serie: The Trials of Apollo
Páginas: 384
Sinopsis

¿Cómo se castiga a un inmortal?

Convirtiéndolo en humano.

Después de enojar a su padre Zeus, el dios Apolo es arrojado del Olimpo. Débil y desorientado, aterriza en la ciudad de Nueva York como un adolescente normal. Ahora, sin sus poderes divinos, los cuatro mil años de deidad debe aprender a sobrevivir en el mundo moderno hasta que de alguna forma pueda encontrar una manera de recuperar el favor de Zeus. Pero Apolo tiene muchos enemigos - dioses, monstruos y mortales a quienes les encantaría ver al ex olímpico destruido de forma permanente. Apolo necesita ayuda, y él puede pensar en un solo lugar a donde ir... un enclave de semidioses modernos conocidos como el Campamento Mestizo.


SERIE: THE TRIALS OF APOLLO
The Hidden Oracle
Mi opinión
Hacía rato que Riordan no sacaba dos libros en un año pero estoy muy contenta de que lo haya empezado a hacer de nuevo porque eso significa dos grandes novelas de aventuras y diversión por los próximos 5 años.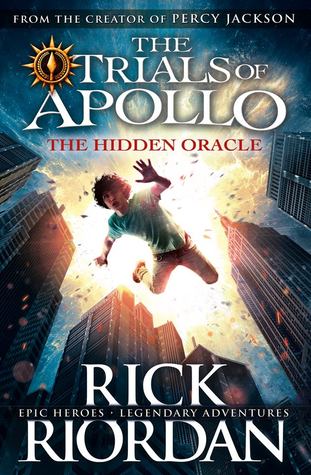 El anuncio de la próxima existencia de la serie The Trials of Apollo fue una gran sorpresa, me emocioné bastante aunque si estaba un poco aprensiva porque al ser un dios el narrador, sabía que sería un poco diferente. Pero moría de ganas por volver a este mundo y a los personajes que tanto me gustan. Y solo por eso leería esta historia pero conociendo la escritura de Riordan, estaba segura que lograría darnos algo interesante, divertido y emocionante.
Y no me equivoqué.
Seis meses después de la guerra contra Gaea el gran dios Apollo es arrojado a la tierra como un simple y joven humano. Apenas está saliendo del basurero donde cayó y ya está siendo atacado por dos tipos. Extrañamente es rescatado por una peculiar chiquilla de 12 años llamada Meg. Con ella emprende el viaje para llegar al Campamento Mestizo, seguro de que ahí podrán ayudarlo. Pero el Campamento no es el lugar seguro que solía ser y algunos de los semidioses han desaparecido, incluyendo dos hijos del mismo dios (si, esta parte es bastante rara, ya que tiene la misma edad que sus hijos). Poco a poco se van dando cuenta de que hay fuerzas muy antiguas y poderosas manipulándolos y Apollo tiene que aprender a vivir con su humanidad de prisa, si no, puede perder mucho más que su vida.
Yo quería que el libro me durara por lo menos dos días, pero no pude, los últimos capítulos fueron muy rápidos de leer y en realidad no es muy grande el libro. El inicio es un poco lento como en casi todos los primeros libros. Tenemos que conocer a los personajes y dejarlos que se orienten un poco. Algo que me gustó es que no dan demasiadas explicaciones de lo que ha pasado en los 10 libros anteriores, solo mencionan cosas importantes y utilizan el hecho de que Meg no sabe nada para aprenderlo así que no se siente lleno de explicaciones para los que ya hemos leído los libros pero tampoco deja que se pierdan los nuevos lectores.
En cuanto al narrador, la voz de Apollo era insoportable al principio y me imagino que esa era la idea. Siempre hemos visto a los dioses como unos niños caprichosos y egoístas y eso no iba a cambiar solo porque Apollo es humano. Pero este personaje tiende a irse por las ramas. Siempre está recordando detalles de su vida que a veces son completamente irrelevantes y solo nos hacen levantar la ceja en confusión.
Lo bueno es que va madurando (a pesar de tener miles de años) y se enfoca más en lo que es importante. Me gustó que comenzara a preocuparse por los demás y no solo por sí mismo, ser humano le ha servido bastante.
En cuanto a los personajes de los demás libros, vemos a Percy brevemente, a Nico y a Will los vemos un poco más y son tan lindos :3 Y al final vemos a Leo quien afortundamente parece que va a participar bastante en el siguiente libro.
Calificación
Al final me agradó. La historia es interesante y promete mucho, creo que Apollo va a ser un buen narrador (aunque dudo que deje de andarse quejando por su suerte) y va a haber más Leo en el futuro (Espero que también haya más Piper y Jason, porque a ellos si los extrañé mucho). Le doy 4 monitas a The Hidden Oracle de Rick Riordan.
Saludos!!