Título: Isla and the Happily Ever After
Autor: Stephanie Perkins
Editorial: Dutton
Año de Publicación: 2014
Idioma: Inglés
Serie: Anna and the French Kiss
Páginas: 339
Sinopsis

Enamorarse en la ciudad más romántica del mundo es fácil para la soñadora Isla Martin y el enigmático artista Josh Wasserstein. Pero a medida que avanza el último curso en la School of America de París, Isla y Josh se ven obligados a afrontar la desgarradora realidad, porque, quizá, su historia no acabe con un «felices por siempre jamás».

¿Seguirán juntos cuando los días en el instituto se acaben? ¿Será su amor más fuerte que la distancia? Su romance se convertirá en un apasionante viaje por Nueva York, París y Barcelona, acompañados de sus amigos Anna, Étienne, Lola y Cricket.


SERIE: ANNA AND THE FRENCH KISS
Isla and the Happily Ever After
Mi opinión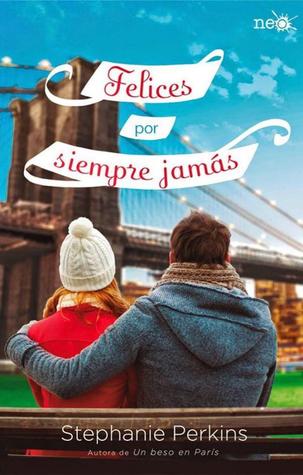 Creo que poco a poco voy dispersando mi bloqueo lector porque en una sola sentada me leí el tercer libro de la serie juvenil romántica de Anna and the French Kiss (En México se llama Un Beso en París).
Voy a admitir que Josh no me encantó cuando leí Anna and the French Kiss, se me hacía un poco berrinchudo y melodramático así que no me moría por leer su libro porque pensé que sería como un cliché donde la chica está clavadísima de él y él sería como un artista sufrido que no se merece su amor o alguna tontería como esa. Afortundamente, estaba completamente equivocada y me quiero dar de golpes por no haber leído este libro antes: Simplemente lo amé!
Isla Martin ha estado enamorada de Josh Wasserstein desde que lo vio por primera vez en el primer año de prepa en la Escuela Americana de París. Y después de un fortuito y breve encuentro en Manhattan, parece que tiene una oportunidad con él. Pero pronto sus propias inseguridades y los problemas familiares de él hacen que todo se complique. El amor de estos chicos es fuerte pero tendrá que serlo aún más si realmente quieren ese "felices para siempre".
El año pasado leí Anna and the French Kiss y Lola and the Boy Next Door en un fin de semana. Un sábado para el primero y un domingo para el segundo. La idea era sentarme cómodamente el siguiente sábado y terminar la trilogía, pero ya ni recuerdo qué fue lo que se atravesó (flojeritis probablemente) que esa semana que tenía planeado esperar se pasó a más de 52 consecutivas. Hay algo que deben saber de mi: Soy media mala para terminar series. Tengo varias solo esperando que termine con el último libro. Así estoy con la serie Blood of Eden de Julie Kagawa (que es increiblemente genial) con Monster High de Lisi Harrison, Paper Gods de Amanda Sun, Medusa Girls de Tera Lynn Childs.... y otros tantos que ya ni me acuerdo. Estoy a un libro de terminar pero no me dan ganas de hacerlo.
Este año, como meta personal, me he propuesto continuar o terminar con algunas de esas series inconclusas y creo que si le estoy avanzando, Isla and the Happily Ever After es muestra de ello.
Y ya basta de desvaríos, ahora si, a concentrarnos en la reseña de este lindo libro. Como mencioné anteriormente, yo esperaba algo diferente aquí. Josh era un personaje infeliz y agresivo y a Isla solo la vimos por unos instantes y personalmente me pareció un poco "sin chiste". Pero eso es lo malo de la primera persona. En el primer libro, Anna, la protagonsta y la voz de la historia los ve de esa manera. Pero aquí cambia la cosa, ahora Isla es la protagonista y está enamorada de Josh así que ella lo ve de diferente manera.
Comparando a las tres protagonistas, vemos que son muy diferentes. Isla, sobre todo, es distinta a las otras dos chicas. Donde Lola exuda personalidad y confianza en sí misma, Isla es tímida y prefiere no arriesgarse. Anna es divertida y hace amistades con facilidad mientras que Isla es más reservada. Me gustó que la autora les diera esas personalidades tan distintas y que la calidad de su escritura no bajara solo por tratarse de alguien más. Creo que es versátil la forma en que pasó de una chica a otra y me hace tener grandes esperanzas para sus próximos libros.
Ahora hablando sobre Josh, este chico realmente me sorprendió, yo estaba imaginando que tendría cierta actitud pero resulta que es un chico tierno y carismático que solo necesitaba a alguien que realmente se interesara en él y no quisiera cambiarlo. Terminé adorando a este muchacho tanto como Isla.
Y por último, una de mis cosas favoritas fue ese cameo casi al final donde vemos a Anna, a Ettiene, a Lola, a Cricket e incluso a Meredith. Me gustaron mucho todos los personjes y me alegré de volverlos a ver.

Antes de irme quiero agradecer a Gaby del Blog Read a Book porque ella fue quien me regaló este libro firmado, por cierto, y me obligó a comprar los otros dos. Muchas gracias Gaby!!!
Calificación
Me gustó mucho Isla and the Happily Ever After así que le doy 5 monitas sin dudarlo. Si les gusta un poco de empalagamiento (?) en su vida, realmente deben leer esta trilogía. Afortunadamente los tres libros los podemos encontrar en el país así que no duden en leerlos.
Saludos!!