Título: Anna and the French Kiss
Autor: Stephanie Perkins
Editorial: Dutton
Año de Publicación: 2010
Idioma: Inglés
Serie: Anna and the French Kiss
Páginas: 372
Sinopsis

La Torre Eiffel, Amélie y un montón de reyes que se llaman Luis. Esto es todo lo que Anna conoce de Francia. Por eso, cuando sus padres le anuncian que pasará un año en un internado de París, la idea no acaba de convencerla.

Pero, en la Ciudad del Amor, conoce al chico ideal: Étienne St. Clair. Es listo, encantador y muy guapo. El único problema es que también tiene novia. ¿Conseguirá Anna el ansiado beso de su príncipe azul?

El humor y la tensión que se respiran página a página en el debut literario de Stephanie Perkins te atraparán y te llegarán al corazón.


SERIE: ANNA AND THE FRENCH KISS
Anna and the French Kiss
Mi opinión
Hace un rato Gaby del Blog Read a Book me regaló el libro de Isla and the Happily Ever After de Stephanie Perkins. Pero como este era el tercer libro, pues me "tuve" que comprar los otros dos. Y no me pesó en lo más mínimo porque andaba en mood romanticón y había visto tan buenas reseñas de esta serie que ya se me estaban antojando.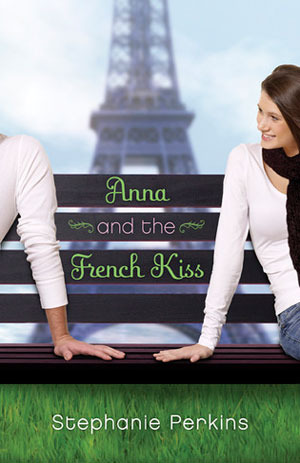 Cuando Leí Anna and the French Kiss me hacía falta sentarme a leer por horas y horas sin quererme levantar y la historia de Anna fue el libro indicado para lograrlo. Tanto este como el de Lola and the Boy Next Door los leí en un día cada uno. Esto me ayudó a disfrutar completamente del libro y de la historia de Anna y Etienne,
Anna no está muy contenta de dejar todo lo que conoce y ser enviada a Francia a terminar la prepa. Tal vez suene emocionante pero ella preferiría quedarse con sus amigos y con el chico que le gusta. En lugar de eso su papá la manda a un país al que no conoce nada, ni el idioma siquiera.
La historia en este libro es muy sencilla y es eso lo que la hace tan linda y creíble. Los personajes no son los típicos sufridos con pasados horribles que tengan que arreglar. Son chicos normales que te encontrarías en la calle. Que tienen problemas, claro, pero no necesitan ser salvados por nadie, solo viven su último año de prepa.
Viendo hacia atrás (leí el libro hace bastantes meses) Anna no es de las protagonistas que se destacan. Es un poco tímida, a veces se queja demasiado y no hay nada extraordinario en ella, pero es tan carismática que siempre te hace sonreír y le echas porras durante todo el libro.
Y hablando de personajes carismáticos, Etienne St. Clair se lleva el premio cuando se trata de la mejor personalidad en el libro. Es imposible no querer a este chico. De todos los personajes él es quien tiene más problemas (Hay otro chico pero no conocemos mucho de su vida). Su mamá está enferma y su padre es déspota y quiere controlar su vida, pero también es el más alegre. Es de esas personas que todos quieren tener cerca.
La ciudad de París también juega un papel importante en el libro y vamos de la mano de Anna y Etienne conociéndola. La autora realmente logra hacerte sentir esa magia del lugar y te rodea en un ambiente de ternura, risa y amor del que no quieres escapar. Su narrativa es fresca y te envuelve en los acontecimientos a tal punto de que te sientes ahí con ellos, los ves sufrir y te duele, los ves reír y te mueres de la risa tú.
A pesar de que hubo un par de clichés en la historia, está uno dispuesto a dejarlos pasar simplemente porque todo lo demás es tan interesante que los clichés pierden importancia y te concentras más en lo que está sucediendo. Y al final te deja con un buen sabor en la boca y una sonrisa en el rostro.
Calificación
Le doy 4.5 monitas a Anna and the French Kiss de Stephanie Perkins
Saludos!!